The Coronavirus impact has and continues to influence market trends in strange ways, for example, six months ago who would have thought the UK would become a nation of inflatable hot tub owners!
Whilst many of us are enjoying using our newly purchased hot tubs, having a suitable and appealing garden space maybe to locate said hot tub is increasingly becoming a determining factor in property rental and sale decisions.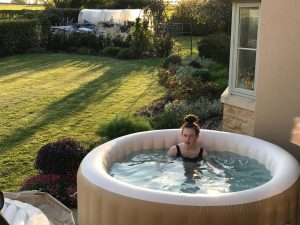 According to the online property portal Rightmove 'Searches by buyers for homes with gardens are up 42% in May compared to May 2019 and for renters, they're up a massive 84%.'
Their resident property expert Miles Shipside suggests that sellers and estate agents should focus on making outdoor spaces as appealing as possible.
He said: "People are now re-evaluating what their must-haves are after ten weeks of staying at home.
"Usually home-movers tell us the kitchen photographs are the most important when they're looking at a property advert, but now agents should consider giving greater prominence to pictures of gardens and outdoor spaces to attract the attention of prospective renters and buyers.
"To add to the photogenic garden appeal, a quick lick of paint on a fence, or a clear out of a shed to show how it could be a lovely summer house, can make all the difference when selling a lifestyle to a would-be buyer or tenant.
Activities that people have enjoyed during lockdown and plan to continue are also affecting their location and property choices, with the three most popular being, outdoor exercise, reading and gardening. Further buyers are increasingly suggesting that they are willing to trade a longer commute to widen their search locations to achieve their property goals.
Whilst property portals and estate agents have seen a recent surge of interest in sales, there are worries that this will be short-lived as the economic status of the country declines with what many see as the inevitable post lockdown recession. If you are thinking of selling now is undoubtedly the time to make the most of your garden asset and here are our top 4 home selling garden tips.
1, Tidy up, just like a declutter inside a garden tidy outside has a massive impact to the kerb appeal of your property. Remember to check the hidden corners and small spaces for leaf debris and general detritus.
2. Give your lawn some love, regular mowing and weed removal will ensure that your lawn will be seen in the best light and look easy to maintain.
3. Flowers, planted in borders or pots, adding a little colour raises your 'garden game' and is a sure-fire way of improving the appeal of your garden space.
4. Lifestyle, don't forget you are selling an image, leaving memorable pictures in viewers minds of how your garden spaces work can accelerate your sale. Maybe adding a few well-placed deck chairs, a bbq or football goal post could clinch the deal.
Finally, if you have bought a property and the garden space isn't quite to your taste, is a little run down or you just fancy a change don't forget our design and build team will be happy to help you achieve your dream garden!  Contact us on 01285 654766 or info@estatesandgardens.co.uk