Modification

and Rejuvenation

During 2019 and 2020 the CE&G were invited by a not for profit care home Trust to advise on modification and rejuvenation of their existing care home gardens with the aim of increasing the accessibility, sensory richness and attractiveness of their garden spaces.

Despite the challenges of working through the Covid pandemic, in 2021 the Cotswold Estates and Gardens team designed and constructed a new bespoke dementia friendly garden for an existing home.
The transformed garden, removes many of the barriers to use and enjoyment that previously existed. The garden offers excellent accessibility for all residents with easy transitions between the indoor and outdoor spaces, has level, firm and non-slip pathways and lawn areas and includes strategically placed handrails to aid independent resident access.  Destination points with shelter are discoverable by both short and long routes allowing residents with differing abilities to enjoy the spaces, this also encourages  a variety of garden journeys. The shelters provided include a large gazebo for social gathering, a small arbour set in a quiet corner and a sheltered pergola with plentiful seating and fun festoon lighting for enjoying the evening.
Original

Garden

The existing care home garden, uneven slabs and with no clear walking routes.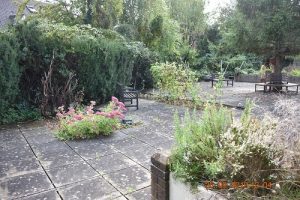 Work

in progress

Project progress, creation of new paths with clear edges.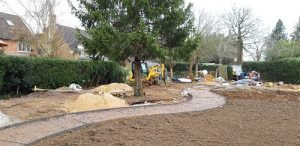 Final

garden

Level pathway with hand rail, new lawn area and a garden shelter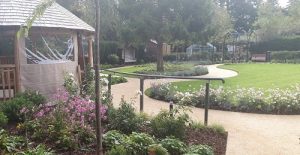 Seating
Seating with comfortable back rests and arm rests and seats at slightly elevated heights to  increase comfort and ease of use has been carefully chosen, this is  positioned in both sheltered and sunny locations. There are spaces so that those in wheelchairs can be seated in the same areas.
Using

the garden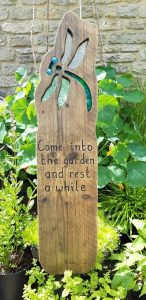 Prior to joining the home, many residents considered themselves to be active gardeners and the addition of a dedicated therapeutic horticulture area with raised beds, accessible potting shed, greenhouse, low level beds,  and containers creates options for residents  so they might restart the enjoyment of a gardening activity or perhaps try it for the first time.
Equally as important as the structural design,  is the planting plan. Plants in this garden have been chosen to give year-round visual interest and those with sensory qualities are prioritised , plants that can cause harm are avoided.
Ornamental sensory features are positioned around the garden to stimulate activity, interest and conversation, included handmade artwork and easy to see and access birdfeeders
For the days when the weather is inclement and for residents unable to leave the building, the views of the garden seen through windows from within the care home are arranged  to be interesting and diverse with plants chosen to reflect the change in the seasons  and attract birdlife close to the windows.
This garden now looks and feels fantastic and has become a space that can be viewed, valued and safely enjoyed by all those who live, work and visit.